Go Fetch! Top 10 Pet Podcasts For Dog & Cat Owners
By: Amber Kelm | Apr 13, 2020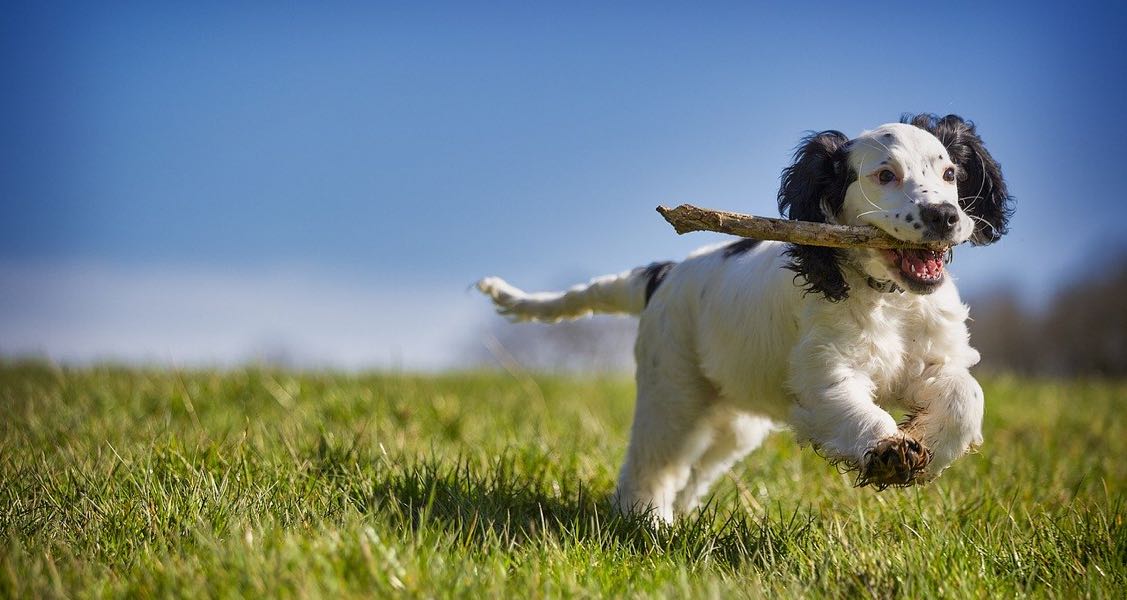 Need some training tips for your new pup? Trying to figure out your cat's bizarre behavior? Getting ready to introduce Baby to your pets? Maybe you're just stressed and want to unwind to the sounds of cats purring. Yep, there's a podcast for that.

Today's pet parents are more serious about their furry four-legged friends than ever before, and countless podcasts exist to inform, help, connect, and entertain. From behavior and training issues to pet health podcasts, we've rounded up the top 10 podcasts about dogs and cats for your listening pleasure!
#1 – The Dog's Way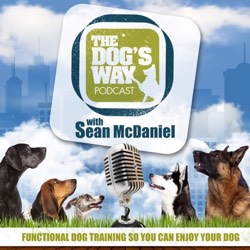 The Dog's Way podcast trains dog owners on how to train their dogs. The host, Sean McDaniel is a professional dog trainer whose methodology is based on how dogs interact with each other socially in the wild. The podcast covers a variety of training topics, including obedience commands, puppy socialization, behavioral issues, separation anxiety, choosing food and dog products, and even how to train your dog to run with you on a bike. The podcast is both entertaining and informative, and McDaniel's step-by-step structure provides clear, actionable training advice that dog owners can implement immediately. 
The Host: Sean McDaniel is a professional dog trainer in Seattle. He works with clients in a private, one-on-one environment, and has gained significant acclaim for his unique approach to training. He believes that training dogs starts with training people, and helping pet owners understand that obedience commands are just that: commands. Not requests, not skills done for treats. He also believes that dogs understand context, and must be trained in different environments and under different circumstances in order to become fully functional. He launched his podcast to share his expertise and help more people enjoy their dogs. 
The Guests: McDaniel primarily leads the show, but he occasionally invites guests, such as veterinarians, experts on traveling with your dog, shelter owners and volunteers, and leaders of dog advocate and educational groups, as well as fellow dog training professionals. He also invites listeners to submit questions on his website, and will often use the questions as training opportunities. 
Listen Here: The Dog's Way
Must Listen Episodes:
Session 89: The "Sit" Command (part one)
The Deadly Dog Training Myth: interview with author Eric Letendre
Session 57: Train your Puppy to get along with Baby better
Rating: 18+
#2 – Can I Pet Your Dog?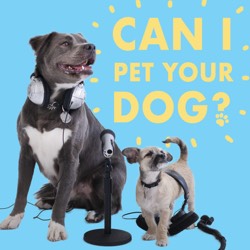 The ultimate podcast for "unapologetic dog owners," Can I Pet Your Dog? is a lighthearted, fun, uplifting, and entertaining weekly podcast about all things dog. Every week the hosts, Renee and Alexis talk about the dogs they've met (and asked to pet, of course!), talk to guests and their dogs, report back after attending dog events, and play a My Mutt Minute segment that features an unapologetic dog owner gushing on their endearing mutt. The podcast features a variety of topics, including games to play with your dog while in quarantine, how to move with dogs, famous dogs in the news, dogs who steal burritos and have mug shots, and much, much more!
The Hosts: Unapologetic dog lovers, Renee Colvert and Alexis Preston co-host Can I Pet Your Dog?. Their nothing-but-good-vibes attitude is infectious, and listeners tout the podcast as the highlight of their week and a sure-fire fix for a bad mood.
The Guests: Colvert and Preston regularly invite guests on the show to talk about their own dogs. Previous interviews have featured actor Larry Brantley, the voice of Wishbone, and authors Michael Dean and Jonathan Marks Barravecchia. Other guests include fellow podcasters and journalists, writers, musicians, actors, friends of the hosts, and other dog aficionados.
Listen Here: Can I Pet Your Dog?
Must Listen Episodes: 
Episode 211: Michael Dean and Jonathan Marks Barravecchia
Episode 108: Doughboys and the Mysterious Mongolian Ridgeback
Rating: 18+
#3 – Cattitude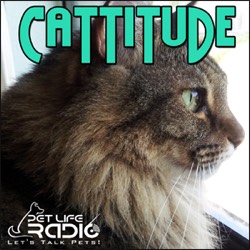 The Cattitude podcast from Pet Life Radio is the cat-lover's meow! Every week, the show spotlights everything you've ever wanted to know about a different breed of cat, while the host and guests review cat products, gadgets, toys and apparel, talk feline health, and share purrr-fectly inspiring stories about cats and their people. Topics range from how obsessed cat owners can pay to clone their cat (fascinating!), how to read a cat's facial expressions, introducing new kittens into a home, how to choose a breed (hint: non-pedigrees are still the most popular!), and much more. 
The Host: Michelle Fern is a podcast host on Pet Life Radio and an animal lover. She has multiple dogs and cats in her home, including two rescues, Princess Charlotte and Molly. Fans love Fern for her wit and savvy interviewing skills. She keeps conversations going, and is a fun, down to earth host that fellow cat lovers can relate to.
The Guests: The show regularly features interviews with guests, including veterinarians, breeders, volunteers from shelters and cat advocacy groups, and best-selling authors who have written books about cats, such as Justin Donner and Gwen Cooper. 
Listen Here: Cattitude
Must Listen Episodes:
I Think We're A Clone Now – Part 1
Gwen Cooper – My Life In A Cat House
The Hissss-tory Of Black Cats And Halloween
Rating: 18+
#4 – The Community Cats Podcast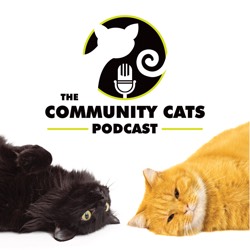 The Community Cats Podcast was created by animal advocate Stacy LeBaron, as a way to share awareness about cat welfare and overpopulation, and to inspire listeners to find ways to help cats in their community. In the weekly podcast, LeBaron interviews experts in the cat welfare industry, and shares information about her mentoring and grant program, online conferences, blogs, and other networking opportunities that connect cat lovers with local programs to improve the lives of more cats.
The Host: Stacy LeBaron has been working with Community Cats in Massachusetts for more than 20 years. As the president of the Merrimack River Feline Rescue Society for 16 years, she assisted more than 80 organizations and 105,000 cats and kittens with TNR programs, catmobiles, and creative adoption programs. LeBaron keeps listeners engaged with her intelligent conversations with guests and her passion for cat welfare and helping communities create innovative programs to help cats.
The Guests: Nearly every episode of The Community Cats Podcast features an interview. Guests include veterinarians, shelter directors, community cat caretakers, writers and authors, as well as founders of companies that make cat products. Each guest shares their personal journey helping cats in their community, and how listeners can get involved.
Listen Here: The Community Cats Podcast
Must Listen Episodes: 
Debbie Chatenever, community cat caretaker
A Best of CCP Episode! Dr. Sara Pizano, DVM, Team Shelter USA
Colleen Bray, Director, Boone County (KY) Animal Shelter
Rating: 18+
#5 – The Raw Dog Food Truth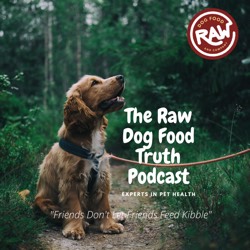 The Raw Dog Food Truth podcast features experts in pet health and nutrition. They share information about common conditions, like allergies and itchy skin, as well as insight into what they believe is the root cause of more serious illnesses, like digestive distress and pet cancer: cheap, chemical-laden kibble dog food. Just as it has been researched in humans, raw, whole, fresh food is more nourishing and healthier than processed food. The podcast host and owners of Raw Dog Food & Company witnessed the healing power of wholesome food firsthand when their friend's dying 5 year old dog made a full recovery after switching from kibble to a raw diet. Now, they're sharing their experience and knowledge with the world on their podcast, and reminding listeners that "Friends Don't Let Friends Feed Kibble!"
The Hosts: DeDe Murcer Moffett is a Certified Pet and Raw Dog Food Nutritionist, and has been feeding her dogs a raw diet for nearly 20 years. Together with her husband, Rick Moffett, they own Raw Dog Food & Company, a manufacturer of raw dog food shipped directly to dog owners' homes. Moffett is joined on the podcast by co-host, Dr. Judy Jasek, DVM.
The Guests: The co-hosts regularly invite veterinarians, pet health experts, pet nutritionists, and pet cancer specialists. They share their expertise about a variety of topics, including skin conditions and allergies, gut biome, flea and medication, pet cancer, and of course, the controversy around kibble dog food and why raw food is healthier.
Listen Here: The Raw Dog Food Truth
Must Listen Episodes: 
Covid 19 and Pets Can They Get the Virus and/or Pass On to You?
How to Transition From Kibble To Raw With Pet Nutrition Expert Nealy Piazza
Chemo Treatments Are Not Harmless – Should You Treat Cancer the Traditional Way?
Rating: 18+
#6 – Purrcast

Purrcast is a podcast dedicated to… cats purring! It's literally 1 to 10 minutes of a cat purring. No host, no introductions needed. Just sweet, soothing, purrrr-ific purring! When viewed and listened to from the podcast's website, each episode has an accompanying picture and description of the endearing purrer. Listeners can't get enough of the show, and claim it helps de-stress and relax them — something we could all use more of during these uncertain times.
The Host: No human hosts here, but obviously the cats aren't recording themselves purring and uploading the clips. The creative minds behind the show include Amy, the chief editor and talent scout, where she fosters cats from BARCS. The co-creator is Justin, who does things on the computer and wears headphones a lot. 
The Guests: Some of Justin and Amy's cats, Momcat and Wilma, make regular appearances on the show. The couple also fosters cats from BARC until they find their purr-ever home. Some of the other purrs heard are compliments of fosters, Pig, Shyhead, Zafron, Gabby, and many others, and the neighborhood cat, Kwan. 
Listen Here: Purrcast
Must Listen Episodes:
Purrcast 44 Lady Momcat Jean Grey Kranz 
Purrcast 42 Shyhead (Now Lou the Dude)
Rating: All Ages
#7 – It's a Doggy Dog World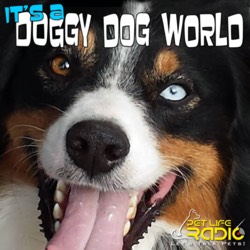 It's a Doggy Dog World is THE podcast for dog lovers! The show covers every topic under the sun in the world of dogs. It discusses different breeds in-depth, including purebred and designer dogs. They also talk about dog products, food, health, training, grooming, and all of the joys and challenges of dog ownership. The hosts invite listeners to email their questions, which become topics for future episodes. While new episodes appear to be on hold, there are 175 pawtastic episodes in the archive to binge! 
The Hosts: Liz Palika is an award-winning author with more than 50 books and 1,000 magazine articles all about pets. Co-host Petra Burke teaches classes about dogs, does school visits, and is active in dog therapy. Co-host Kate Abbott is a professional dog trainer (and owner trainer!). Listeners enjoy the synergy the ladies have, and feel like they're sitting around a table chatting with friends about dogs. The format is informative, entertaining, and the varied topics keeps fans engaged and coming back for more. 
The Guests: The trio of hosts primarily lead the show's conversation, but they occasionally invite fellow trainers and dog experts to add insight on a topic. 
Listen Here: It's a Doggy Dog World
Must Listen Episodes:
Pure Breeds, Mixed Breeds & Designer Dogs
Rating: 18+
#8 – Working Dog Radio

Working Dog Radio is a twice-monthly podcast for K9 professionals in SWAT, law enforcement, military, search and rescue, and other special operations. Topics on the show cover everything from selecting breeders, to working with handlers and trainers, and reviewing K9 gear. The show tackles more in-depth topics as well, such as avalanche dogs, police dog marker training, and monetizing K9 businesses.
The Hosts: Ted Summers is a professional dog trainer with more than a decade of experience. He specializes in hunting, retrieving, police service, and protection training. Co-host Eric Stanbro has been training for more than 15 years, and he specializes in elite working dogs. As a 23 year law enforcement veteran, he has the unique advantage of having both handled and trained K9s. Co-host Alesha Brandt is a professional trainer and uses her artistic skills to paint muzzles for working dogs. Listeners appreciate the breadth of knowledge that the trio shares, and K9 pros say the podcast is a must-listen when on patrol. 
The Guests: Nearly every episode of Working Dogs Radio features a guest. Listeners will hear interviews with champion trainers, Marine handlers, breeders and kennel owners, canine oral specialists, and health and food experts. Episodes are clearly labeled and include descriptions, so listeners can jump to episodes that apply to their specific field or interest.
Listen Here: Working Dog Radio
Must Listen Episodes:
Episode 64: "How Do You….." Episode on Tracking, Building Searches and Obedience with Eric and Ted
Episode 53: The State of K9 RANT
Episode 42: Obedience with KD Mathews
Rating: 18+
#9 – Nine Lives With Dr. Kat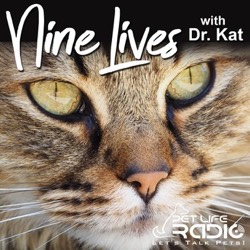 The myth that cats have nine lives – and the countless other myths surrounding cats – are all explored on the fascinating podcast, Nine Lives with Dr. Kat. In addition to the bizarre, the show also covers a wide range of common topics related to cats and their owners. Listeners can expect to learn about oral and gut health, skin and coat conditions, keeping cats safe during the holidays, and helping cats adjust to new babies or other pets.
The Host: Kathryn Primm, DVM, also known as "Dr. Kat" is a veterinarian, writer, and speaker. She was also the first vet in the country to earn a Fear Free certification, which means she sees her animal "patients" more frequently and creates relationships with pets and owners. This helps to eliminate much of the fear or anxiety that animals (and owners!) have about going to the vet. Dr. Kat is a great conversationalist and interviewer, and listeners enjoy the varied topics and knowledge that Dr. Kat and guests share on the show. 
The Guests: Dr. Kat has regular guests on the show, including fellow veterinarians, cat behavioral specialists, authors, artists, the founder of Catiospaces, Cynthia Chomos, and even celebrity cat behaviorist, Jackson Galaxy.
Listen Here: Nine Lives with Dr. Kat
Must Listen Episodes: 
Important Winter Cat Safety Tips With Jackson Galaxy
Rating: 18+
#10 – The Woof Meow Show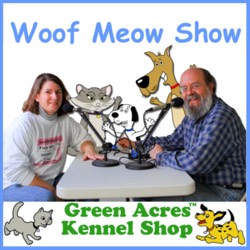 The last one on our list is a hit of both dog and cat owners alike! The Woof Meow Show is a radio talk show featuring Don Hanson and Kate Dutra from the Green Acres Kennel Shop in Maine. The show serves to educate pet owners about a variety of topics, including health, behavior, nutrition, and the powerful relationship between pets and people. Listeners can also learn more about acupuncture and Chinese medicine for pets, including pets in your will and insurance, and even holiday gift ideas for pets. In one regular segment, the hosts discuss "Pets in the News" where they share recent articles or social media posts and provide commentary.
The Hosts: Don Hanson is a Certified Dog Behavior Consultant, Certified Professional Dog Trainer, a Bach Foundation Registered Animal Practitioner, and an Associate Certified Cat Behavior Consultant. Co-host Kate Dutra works with Hanson on pet behavior training, and she also works at Green Acres Kennel Shop as a manager and professional dog trainer. The two have a comfortable rapport, and their casual conversation style invites listeners to cozy up and learn more about our furry four-legged friends.
The Guests: Hanson and Dutra regularly invite guests on the show, including veterinarians, dog bite experts, vaccination experts, trainers, owners and volunteers at shelters and animal advocacy groups, and authors of best-selling books. Listeners appreciate the varied topics and intelligent conversations and insights that guests bring to the show. 
Listen Here: Woof Meow Show
Must Listen Episodes: 
Important Facts About Spaying & Neutering with Dr. Christine Calder
Podcast – Listener Questions No. 34
Is Feeding A Grain-Free Food to Our Dogs Dangerous?, with Linda Case
Rating: 18+
Summary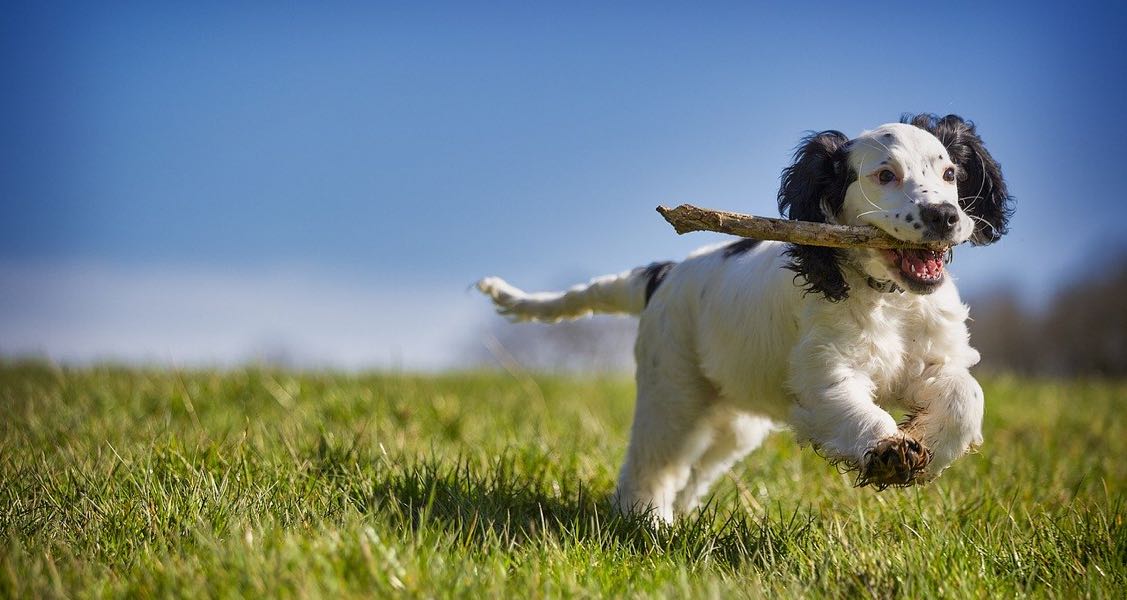 Article Name
Go Fetch! Top 10 Pet Podcasts For Dog & Cat Owners
Description
From behavior and training issues to pet health podcasts, we've rounded up the top 10 podcasts about dogs and cats for your listening pleasure!
Author
Publisher Name
Publisher Logo